This trip was special, as it was our honeymoon trip. We were all set to explore South-East Asia in a weeks' time. We set our itinerary a bit compact, as we had to join back work in about a fortnight, and we wanted to explore the maximum. After all, there are so many places in the bucket-list, there is hardly any time to revisit a place!!
So, our leg of journeys included Mumbai–Bangkok–Krabi–Singapore–Mumbai
Day 1:
Mumbai to Suvarnabhumi airport – Thai airways are a delight to fly with! Absolutely peaceful flight, we rested a lot as it was an evening flight from Mumbai. It is a much talked about airport and since we only had a couple of hours before our connecting flight to Krabi, we explored this hugely spread airport, had some finger foods, picked up few magazines, did some touristy activities and waited for our connecting flight.
Reaching Krabi – The landing on Krabi airport was spectacular. All you can see is green! The roads in Krabi province have thick vegetation around. The resort we reserved, Vogue Resort and Spa was a good 40 minutes' drive from the airport. Having pick-ups arranged by the hotel, it was comfortable reaching there. Otherwise, there are pre-paid taxis and even auto rickshaws available right outside the airport. Vogue is a well maintained and peaceful resort in spite of being right on the main road. It was only 10 minutes' walk from the Ao Nang beach.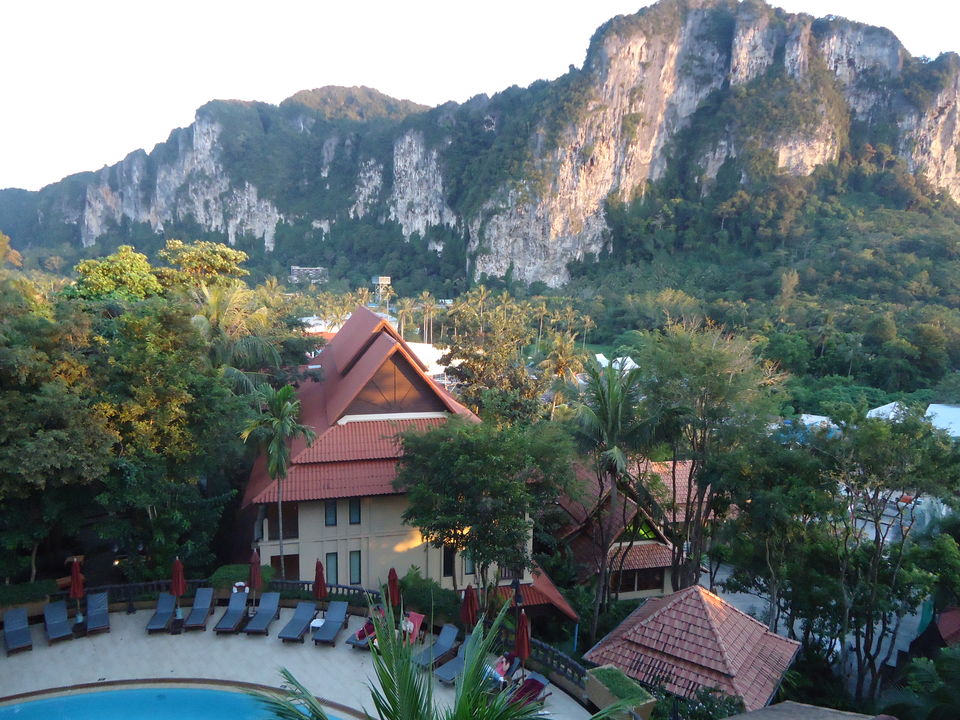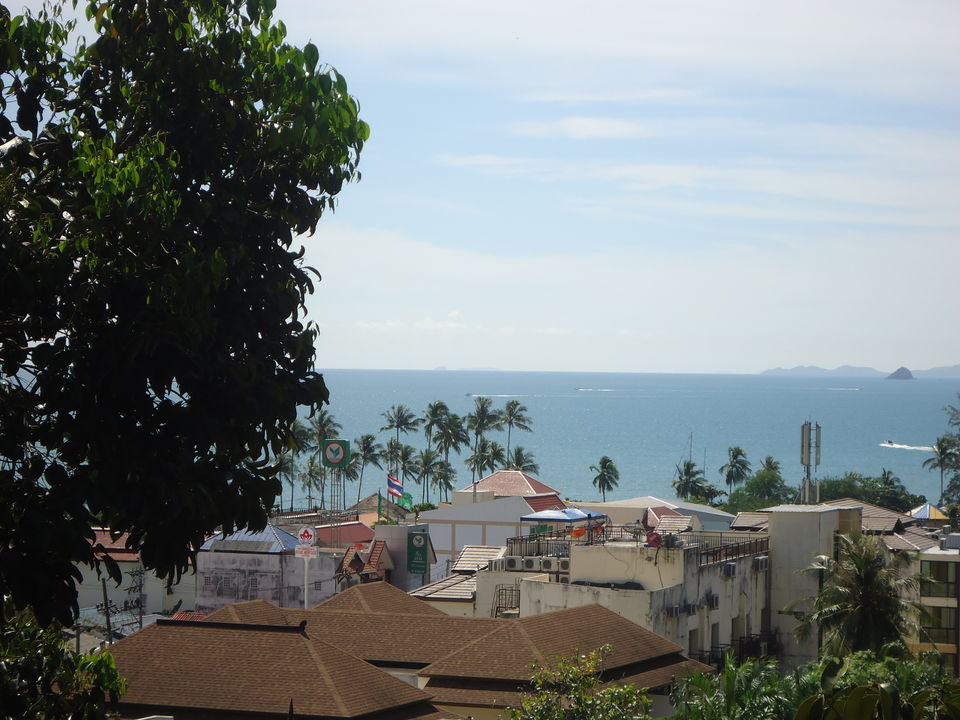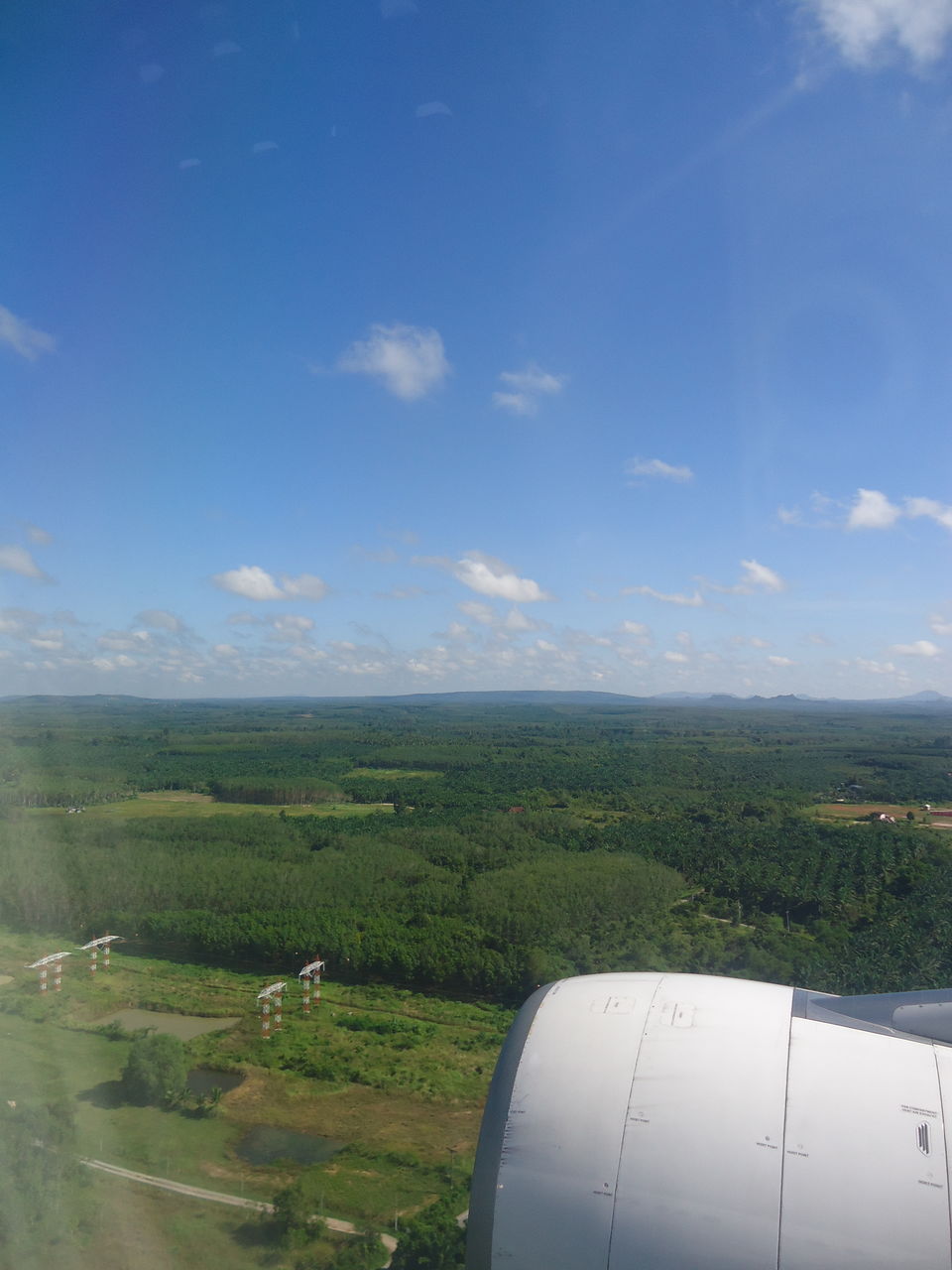 My love for Thai food – Well being a foodie, all I could think of reaching there was authentic Thai cuisine, trying out street foods, seafood and different types of local fishes. Fortunately, we bumped into few good local food joints like Coconut bar, Diver's Inn, The Last Fisherman, Jungle kitchen and few more. Thailand truly is a seafood lover's paradise. Go to Thailand for the food!! Seriously u won't be disappointed…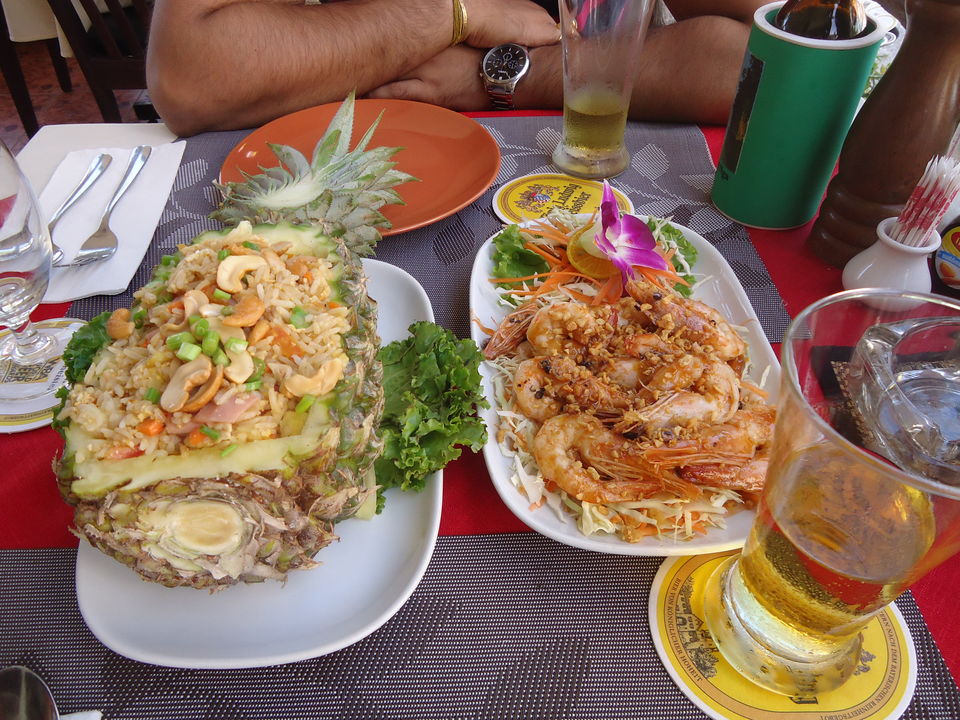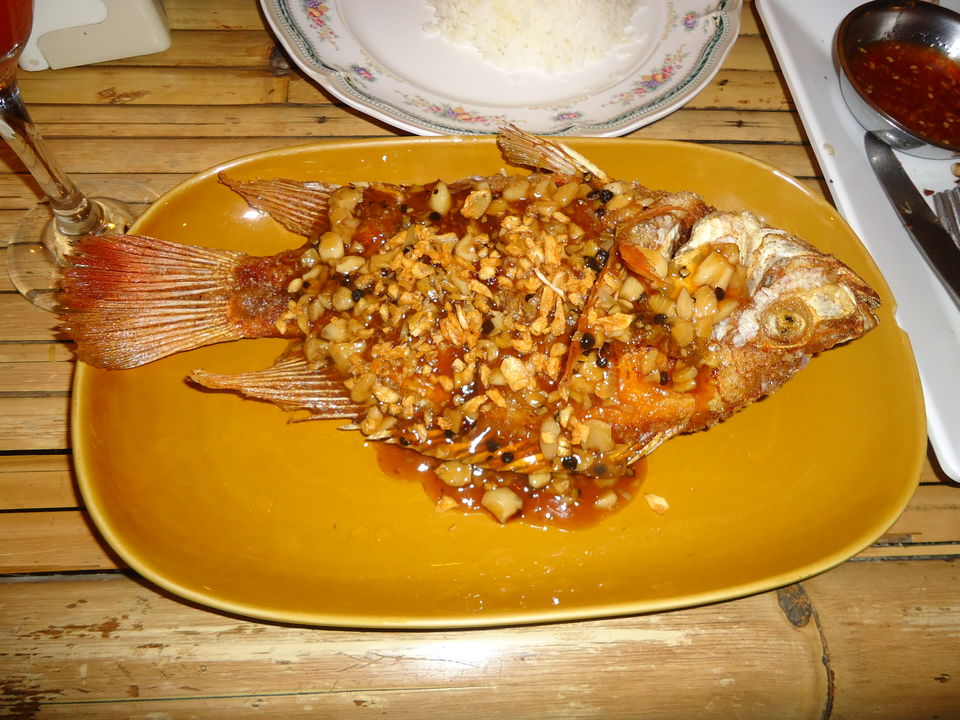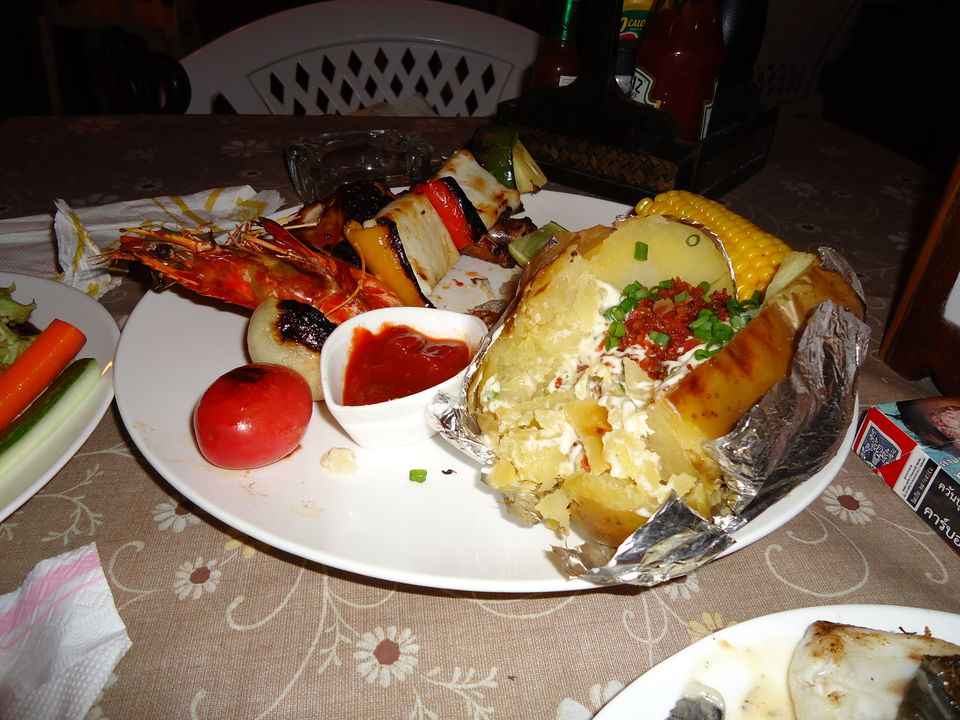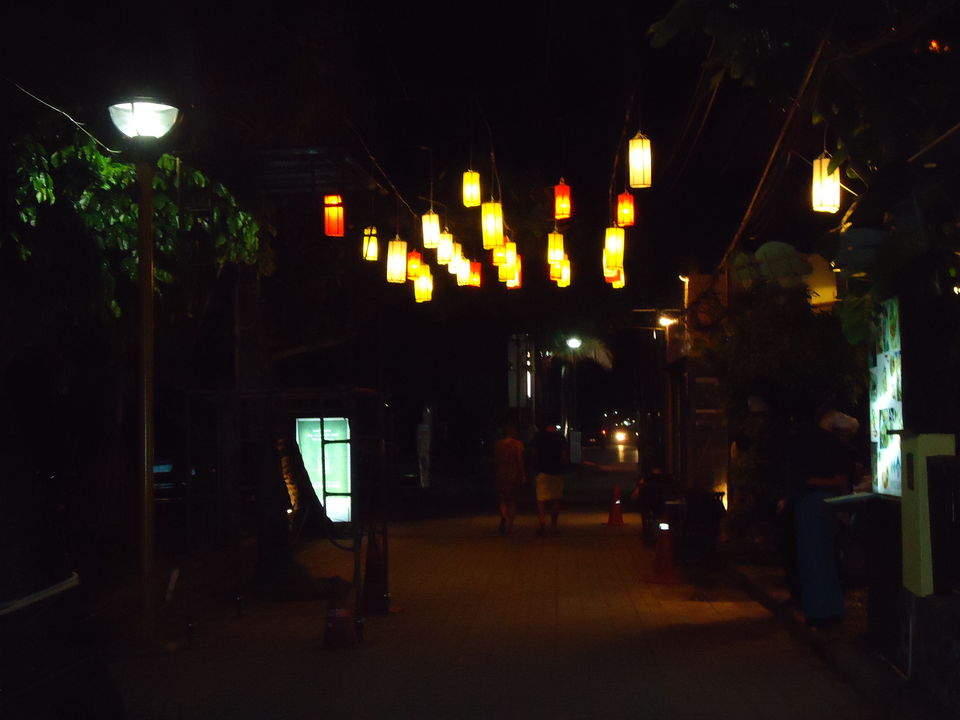 Day 2 and 3:
Two days of Island hopping – After a relaxed day, we spent the next two days exploring islands around Krabi. Krabi has around a 100 islands and dramatic rock formations out at sea. Island tours are on top to-do lists for all visitors here. We were no different and we opted for the James Bond Island tour, Hong island with 4 islands (Koh Poda, Chicken Island, Koh Tub, Koh Mor) and Phi Phi island tour in over two days' time.
The beaches here are breathtaking, white sand, hues of blues and turquoise, ideal for swim, snorkeling, kayaking or an afternoon swim.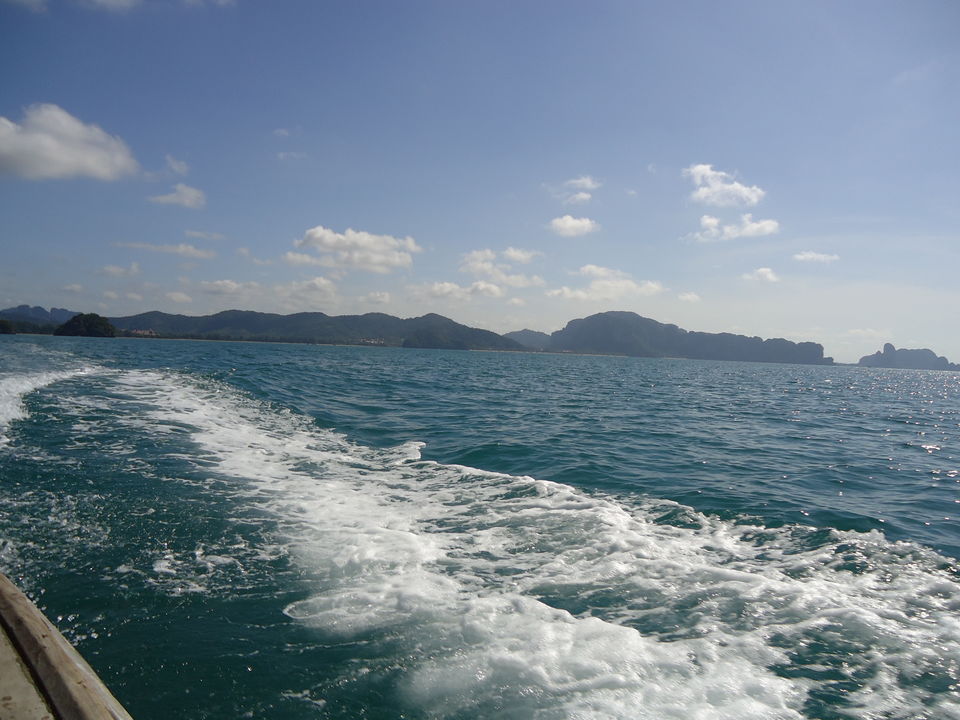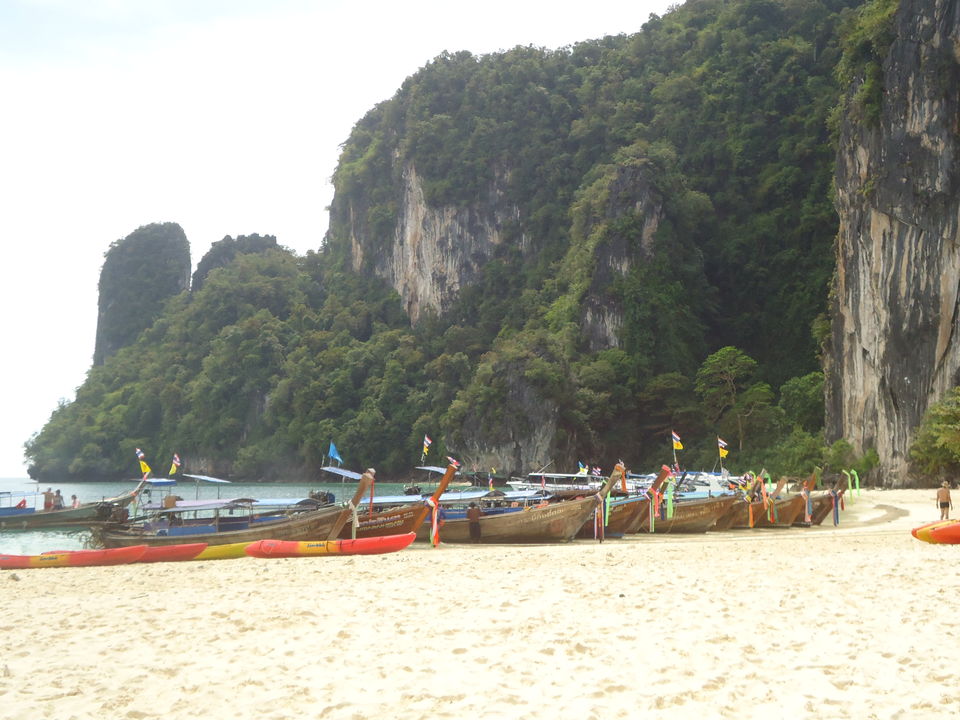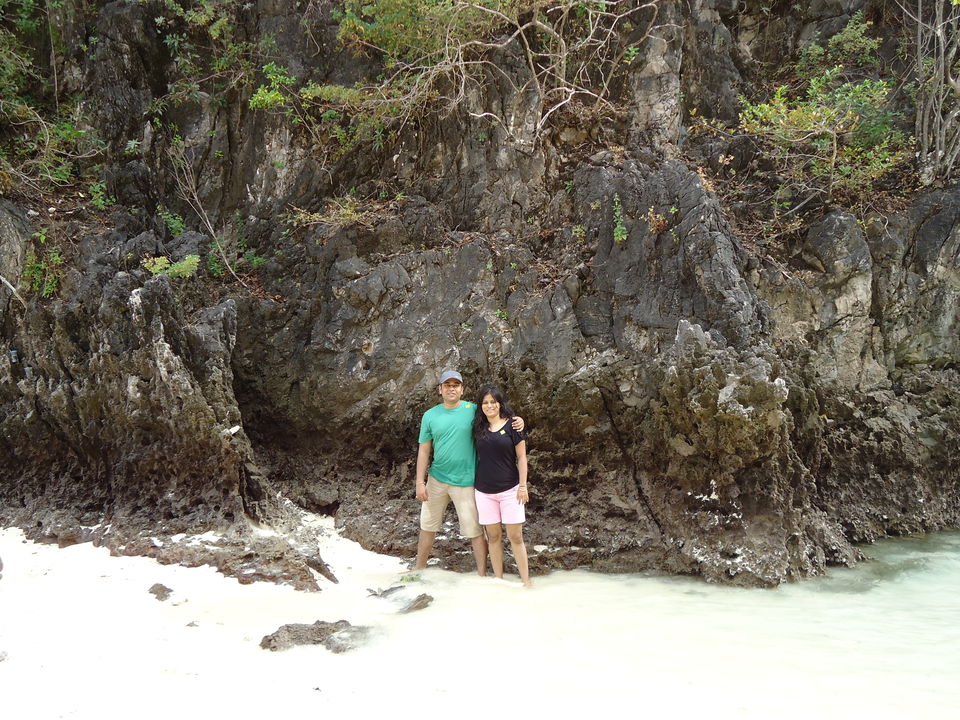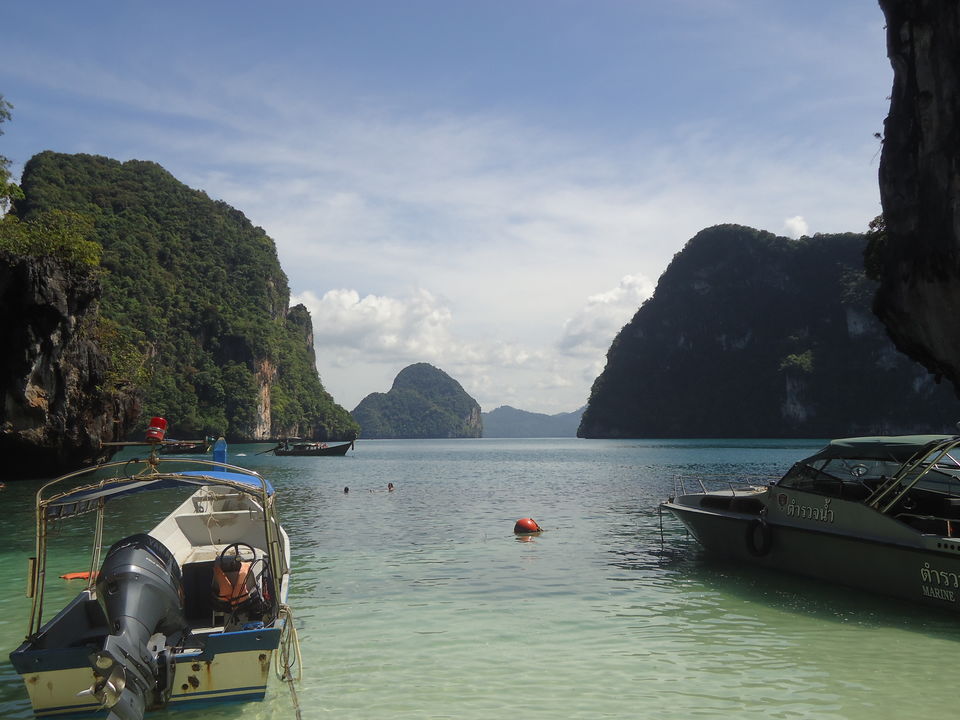 Day 4: Hot water spring waterfall-Emerald pool- Tiger cave temple-Jungle trek
I was frankly tired of island hopping and wanted our Day 4 to be different. Thanks to our tour guide Andaman Horizons. The lady here, who is also the owner; arranged our day trip with places less visited by tourist, and it was a perfect getaway. Day 4 was all about exploring the Krabi province which started with a natural hot water spring.
Hot water spring waterfall–Not many visitors know about this natural spring which came as an advantage to us, as this spring is quite small and only 7 to 8 people can go in at one time. Nevertheless, the water being lukewarm is quiet relaxing in the humid weather. We enjoyed our share of 15 to 20 minutes there.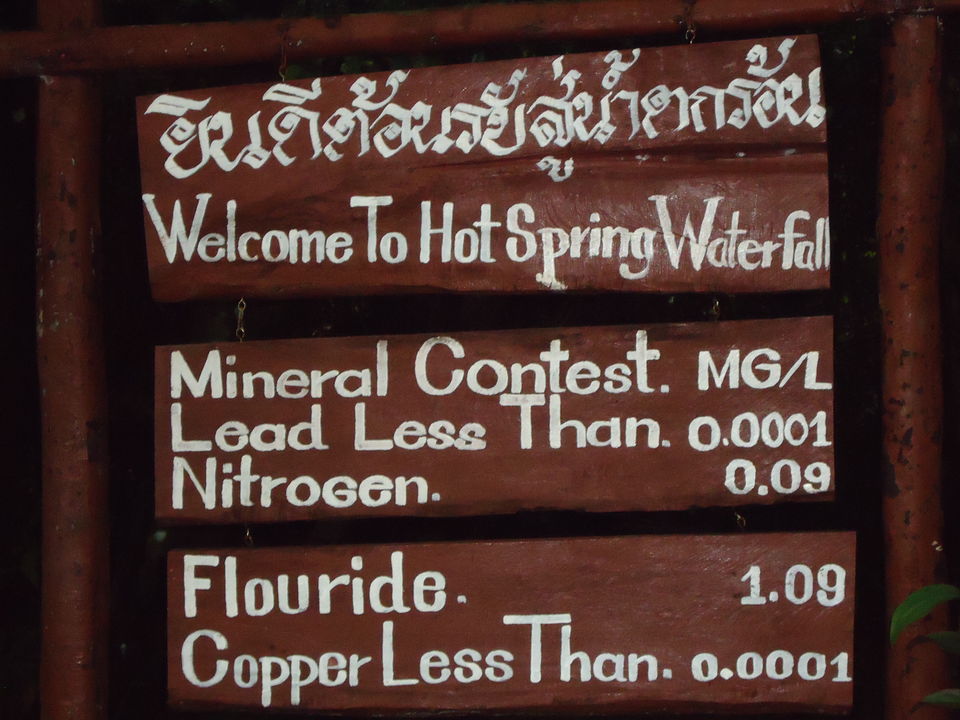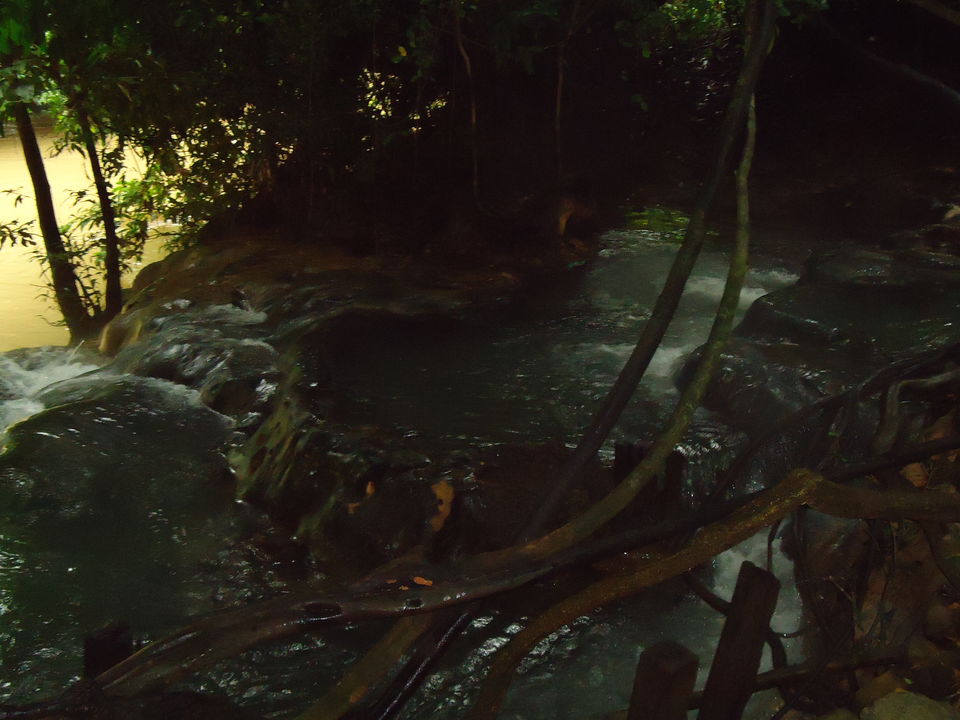 The walking trail to the Emerald pool – There are two routes available to you, the shorter one being a 5-minute walk and the longer one from between trees will easily take 15 to 20 minutes. Thank God! we took the longer route, the forest with huge canopy and water bodies were mind blowing. At the end of the trail we reached the Emerald pool. Honestly! This walk isn't worth missing!
This place truly goes by its name and is in fact emerald in color!
No kidding! It is a naturally formed pool with minerals which the locals believe to have therapeutic potential. The Thailand tourism has restored the pool in its natural form which is about 5 to 6 feet in depth. It surrounds beautiful plants and creepers which adds to the green grandeur. It is hard to stop yourself from taking a dip!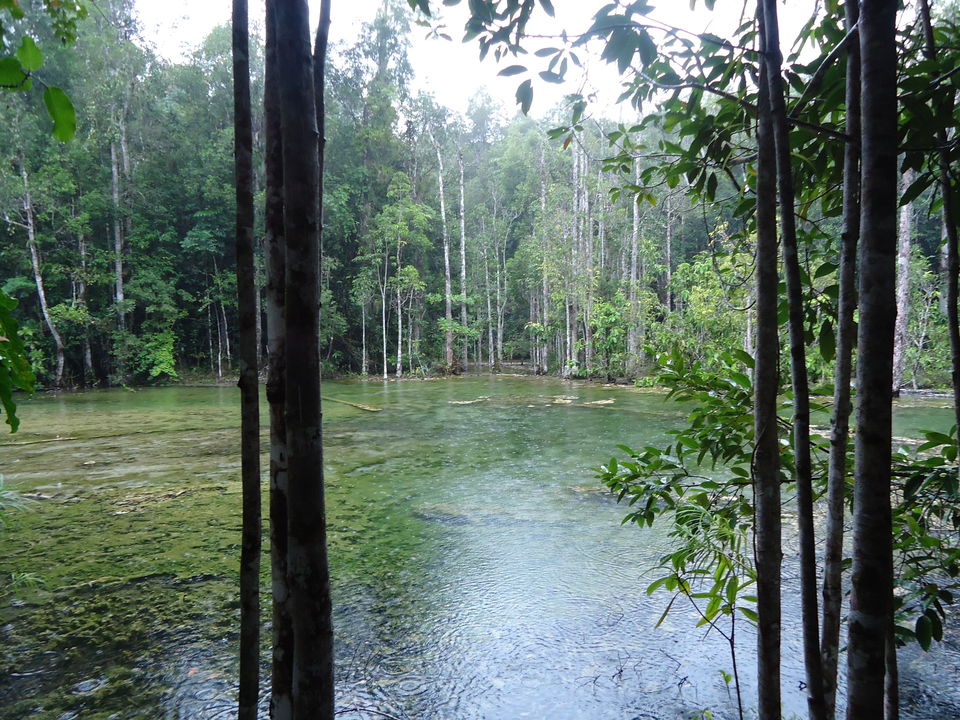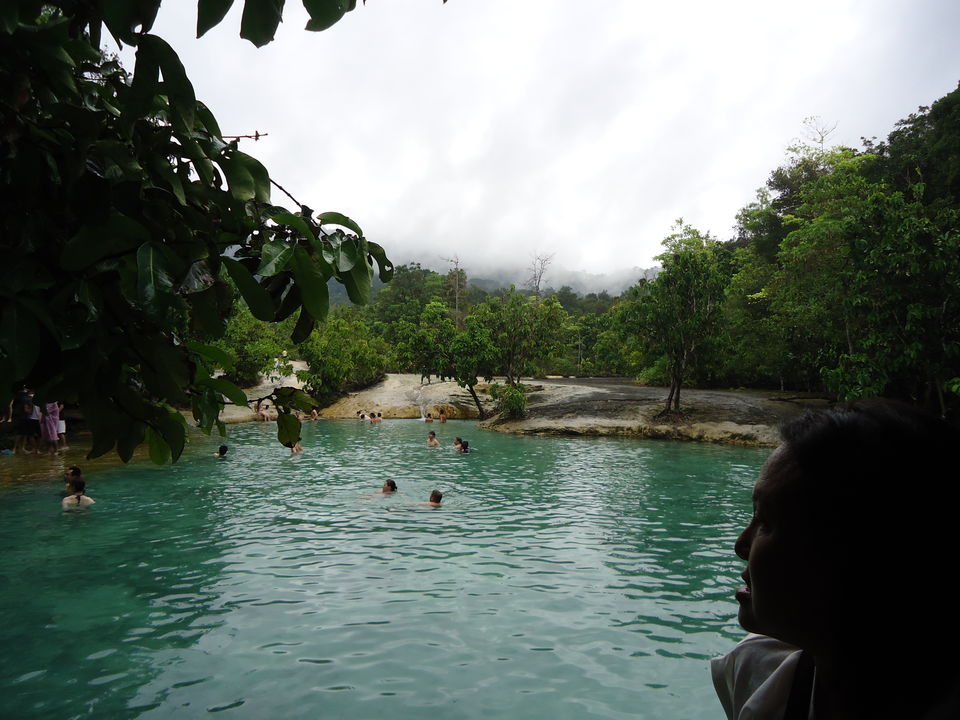 En-route the Tiger Cave temple – Also known as Wat Tham Seua is a much-recommended day trip around Krabi province. The temple complex has a main structure with hall; it is a narrow, stretched limestone cave with sculpture of tiger inside. It is believed that in ancient times these caves had tigers as visitors. The settlers around the temple complex, took help from the monks here, who later started domesticating the tigers. Such is the magic of meditation, love and faith. They started worshiping these wild creatures and that is how the age-old relation with these majestic creatures last till date.
Apart from the main cave there is a new pagoda set up in the temple grounds, a forest trial behind and beautiful landscaped gardens around. There is a steep climb of some odd 1237 steps near the park entrance. Though it was tiring to climb up, the view from top is spectacular. You can view the dense vegetation around, a gleaming Buddha statue sitting atop and as far as the blue outline of sea.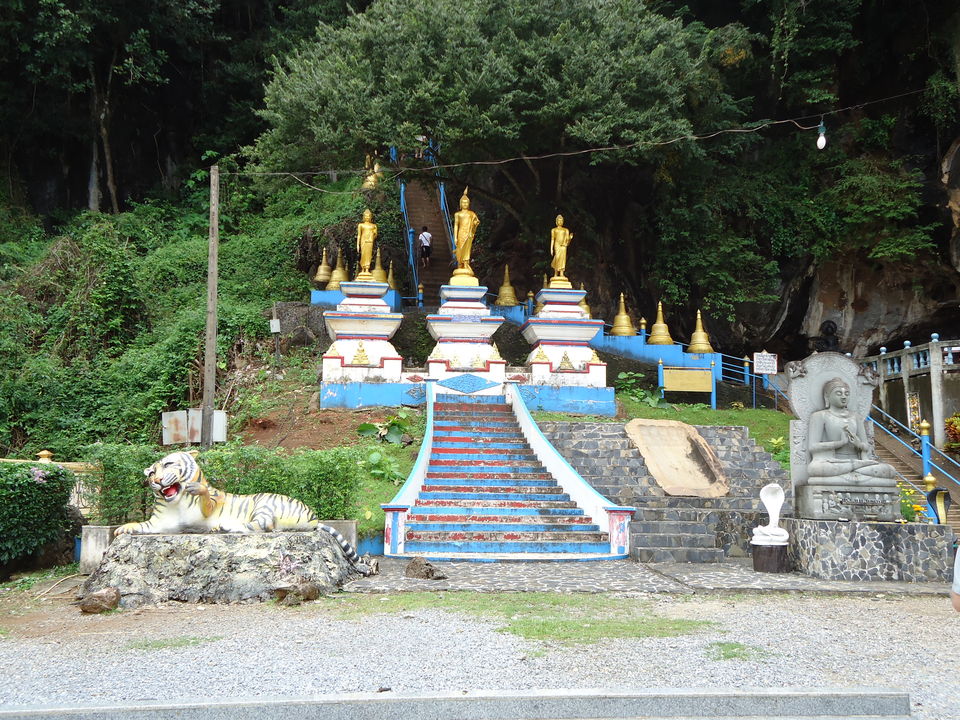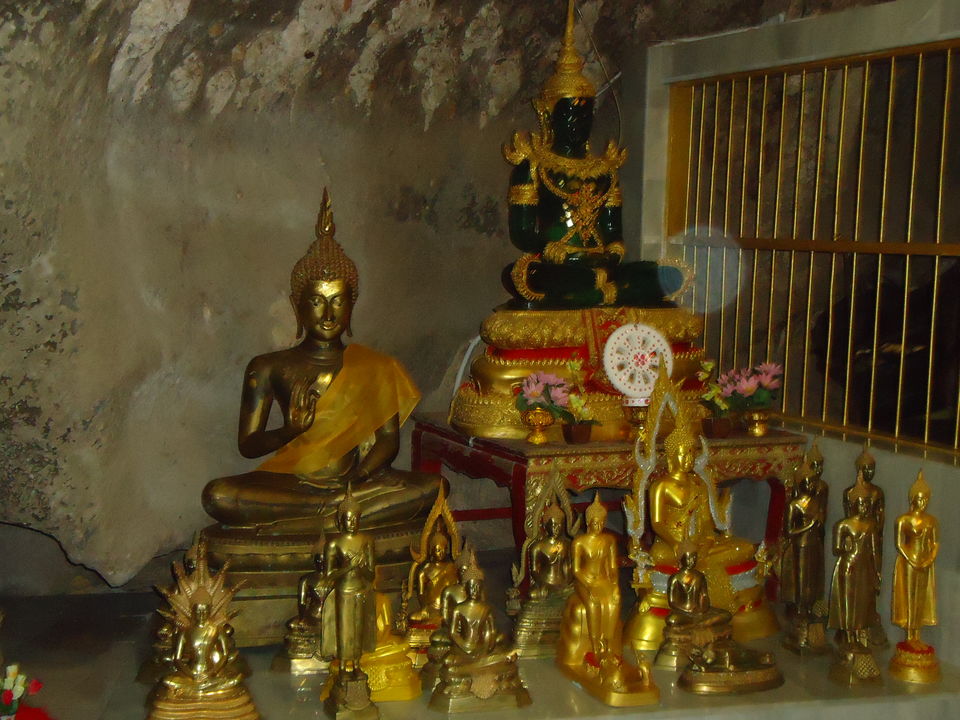 #Into the Jungle with an elephant ride: Well the day had to end and what better than a Jungle! This is where we halted for lunch. After a sumptuous meal served on banana leaves (very authentic experience), we headed for the Jungle trek. I must admit sitting on elephant wasn't at all comforting especially after seeing the murky tracks around! I was skeptical as to how this poor creature would maintain its balance with us on her back and still trek?! I wasn't the only one with my heart pounding so fast, there was a group of French tourists ahead of us who had similar dazed expressions as I had that point of time. Well, I had company and yes, the elephant did not fall/slip!! The whole experience, the ride, the elephant taking a dip with us on its back, feeding them with banana and watching a small entertaining elephant show was worth the time and money.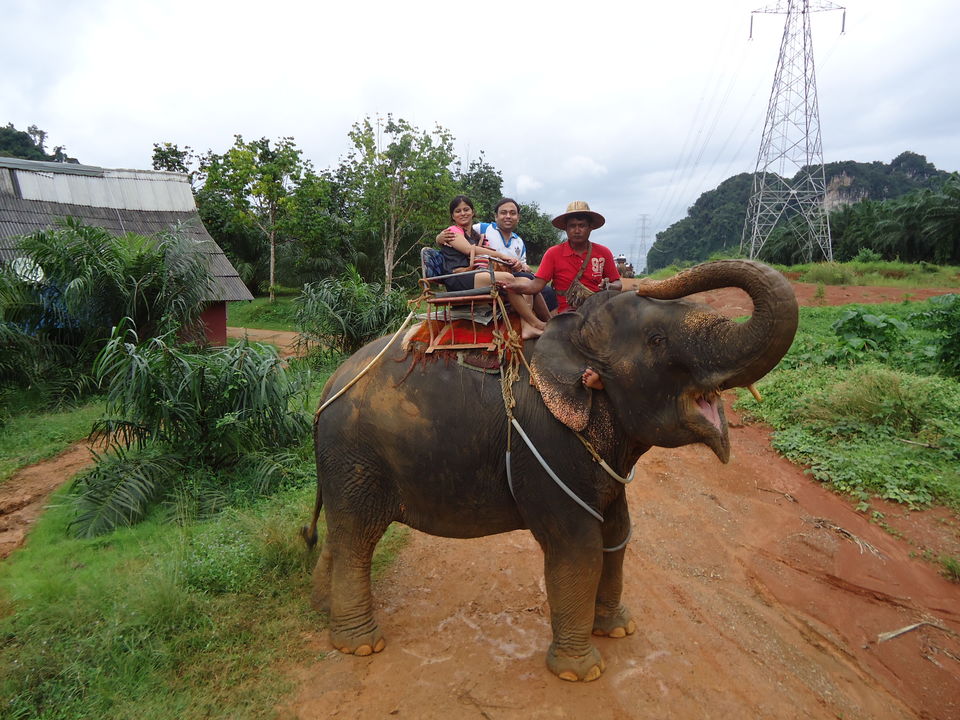 Finally, it was time to say goodbye to the beautiful land of Krabi, as we proceeded to Changi airport, Singapore.